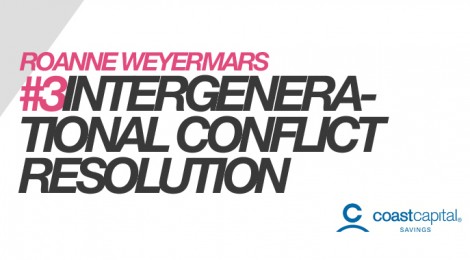 #3
REASON #3 | WEYERMARS OF COAST CAPITAL SAVINGS WILL SHARE STORIES ON STORIES ON INTERGENERATIONAL CONFLICT AND THE RESULTING TENSION, AS WELL AS STRATEGIES TO RESOLVE SIMILAR SITUATIONS

Roanne Weyermars, Senior Manager, Brand & Advertising, Coast Capital Savings, is a passionate marketer with more than 10 years experience building national and local brands. She will be sharing stories on intergenerational conflict, communication challenges, misunderstandings, and tensions in the workplace as well as what an individual can do to improve these situations.
Inspired by her grandfather, a controversial political cartoonist, Roanne began her career in communication arts as a graphic designer in 2001. During this impressionable time, her clients and employers insisted that her real talent lay within marketing strategy and communications on a broader level. Roanne learned to channel her artistic roots into the bigger creative picture and established herself as an authoritative client side marketer working with predominately with telecommunications and finance brands. You can often find Roanne engaged in an enthusiastic conversation around her favourite topics of strategic planning, marketing research, creative collaboration, advertising strategy and customer experience. Roanne currently oversees the Coast Capital Savings brand and the credit union's advertising including all aspects of external and internal marketing across both traditional and digital channels.
The top reason why everyone should come to this conference:
The generational dynamics of the workplace are rapidly changing around us. We need to be aware of how and why they are changing so that we can start the process of learning how to better work together – across generations.
What is the top reason someone like you must attend the XYBOOM Conference this year? Anyone, across any industry can benefit from this conference!
If you are Interested in learning what motivates different generations in the spirit of productivity then you need to come to the XYBOOM Conference.
Why did you decide to become a part of XYBOOM Conference Team? My whole career, I've always been one of the youngest amongst my peer group and I've always struggled with intergenerational conflict as a result. I want to share my story with others in the hope that my experiences can help them. Plus, I'm interested in learning from others because I haven't fully solved this puzzle. I have some tricks and tips but there is still so much to learn, especially from generations other than my own!
What are you most excited to take away from this year's conference?
The spirit of collaboration. Ultimately, we all need to work together. This is where it starts! This is where we learn and grow despite our generation!
As a 30-day countdown to the XYBOOM Conference, we're listing one new reason everyday on why you should attend! Check out our ongoing list below!
Check out our ongoing list of reasons to attend.