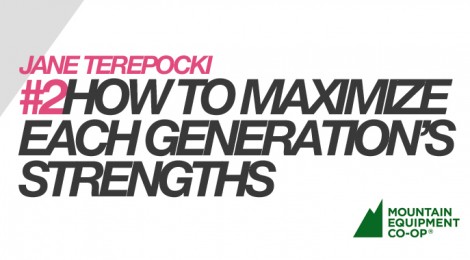 #2
REASON #2 | TEREPOCKI OF MOUNTAIN EQUIPMENT CO-OP WILL SHARE THOUGHTS ON HOW TO MAXIMIZE EACH GENERATION'S STRENGTHS.

Jane Terepocki brings experience as an HR Administrator and Recruitment Trainer at Mountain Equipment Co-op – a past winner of Canada's Top 100 employers. She will share her thoughts and experiences on intergenerational dynamics within the workplace, as well as how to maximize each generation's strengths. As a recruiter for a large and respected brand, Jane will discuss thoughts around attracting and retaining talent of all generations.
The top reason why everyone should come to this conference is to gain cross generational understanding of the challenges facing the XY generation.
What is the top reason someone like you must attend the XYBOOM Conference this year? As someone involved in Recruiting and Training, it is important for me to gain greater understanding of what the XY generation's hopes, dreams and fears are for their work future.
If you are in need of understanding our society better then you need to come to the XYBOOM Conference.
Why did you decide to become a part of XYBOOM Conference Team?
There is a lot of value, not only in my work life but also in my personal life, from this conference.
What are you most excited to take away from this year's conference?
I am excited to connect with people that I know will be dynamic. With the knowledge I gain from this conference I am able to make suggestions for programs that are tailored to the needs of the XY generation.
As a 30-day countdown to the XYBOOM Conference, we're listing one new reason everyday on why you should attend! Check out our ongoing list below!
Check out our ongoing list of reasons to attend.