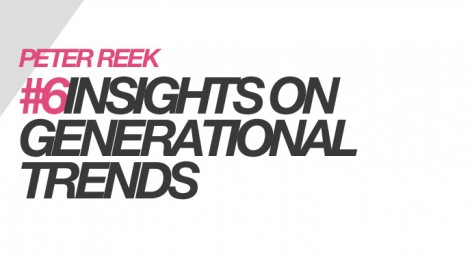 #6
REASON #6 | REEK, ARMED WITH DECADES OF EXPERIENCE, WILL SHARE HIS THOUGHTS ON GENERATIONAL TRENDS.

Peter Reek, Founder and Principal at Smart, Savvy + Associates, will share his insights on generational trends, as well as how history has had an impact on creating them. In addition to bringing decades of knowledge and experience to the Live Case Study portion of the conference, he will also share his personal experiences and stories on this topic.
Peter Reek's Bio:
"Peter Reek is the founder and principal of Smart, Savvy + Associates a marketing and communications focused recruitment firm. Peter has been helping companies make smart decisions and build for success for over 20 years. Seasoned in market research, brand architecture and senior-level marketing, Peter knows what businesses need to meet their goals. He also knows WHO they need. A consultant for 8 years, Peter specialized in group moderating and team facilitation. Translation: he knows people. He can spot the star and sniff out the imposter. Peter has served clients in a variety of industries, lead sizable teams and launched divisions in Canada, US, Europe and Australia."
As a 30-day countdown to the XYBOOM Conference, we're listing one new reason everyday on why you should attend! Check out our ongoing list below!
Check out our ongoing list of reasons to attend.